My 6 year old son finished 4-week swim camp last week and the teacher said he's ready for more advanced class when he finished!  We didn't sign up for more swim camp though, and he starts science camp from tomorrow.  It'll be the first time for him to eat lunch at school because his kindergarten was half day.  I am looking forward to making lunch for him to bring.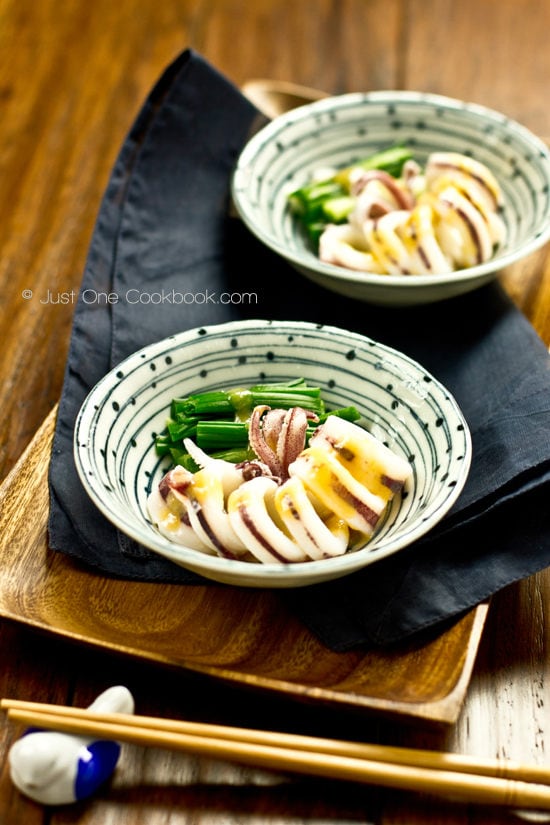 However, to be completely honest I am a bit nervous if I can wake up early enough to prepare his lunch, not sure exactly what to pack, and worried if he's going to eat everything I pack in a short lunch break… I'm just a worry bug.
I'm planning to pack Japanese bento for a couple of days a week and sandwiches in between.  He had been enjoying nice warm lunch everyday till now so hopefully he'll be able to adjust to lukewarm or cold lunch.  Although it'll be fun for him to eat lunch with his friends, I'll miss our lunch time… well at least I still have my daughter to eat lunch with me.  Anyway, let's move on as I will have to go sleep right after writing this, so I can wake up early to prepare!  My husband thinks I am really silly – instead of worrying about whether he'll understand the subjects being discussed at camp, I am worried about his lunch!
Now today's recipe.  Japanese loves seafood and it seems like we eat almost everything from the ocean.  One of the more common seafood ingredient we enjoy is squid.  Squids are served many ways, as sashimi and on sushi, deep fried, baked, grilled, and even sold dried as a snack.  Although squids seem less popular in the US, besides deep fried calamaris, they have great health benefit.  They are low in fat and calorie and high in protein, and they also reduce cholesterol in blood.
Maybe fresh squids look too intimidating for you to prepare and cook?  Well, focus on the end product and hopefully you won't mind.  🙂 One of the more popular squids is Spear squid, we call it Yari Ika in Japanese, and the meat tastes sweet and it's soft and super delicious.  The dish I am sharing today can be served as an appetizer or side dish, and it goes well with alcoholic drinks.